Returning to Brussels Expo, from 24 September, the four-day event is set to be bigger than ever, with hundreds of live demonstrations, 3 new features, 3 expert-led master classes and a workshop.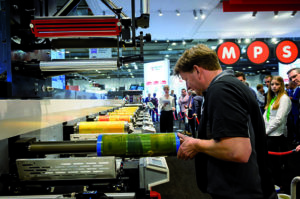 Since its inaugural event in 1989, the biennial Labelexpo Europe has become established as the leading global platform for print professionals, brand owners, label/packaging designers, and related industry suppliers. Themed "Move your business forward", the focus for this year's show is on improving business strategy and advancing the industry. Spread across 9 exhibitions halls, over 600 exhibitors will be taking part.
Complementing the exhibition are 3 dynamic show features making their Labelexpo Europe debut.
The extremely popular topical educational program will comprise 3 half-day expert-led master classes and a workshop run in association with the Label Academy. The master classes will cover:
Flexible Packaging Arena: A demonstration and overview of two conventional and digital press lines producing indirect food contact flexible packaging to the latest GMP standards
Processes demonstrated will include:
UV flexographic printing of flexible packaging on a BOBST M6 press incorporating inline UV dose measurement and food packaging compliant UV inks.
Digital printing on a Xeikon press with inline construction of food packaging compliant stand-up pouches.
In  addition: Visitors will be able to view food packaging compliant flexible packs on the HP Indigo stand.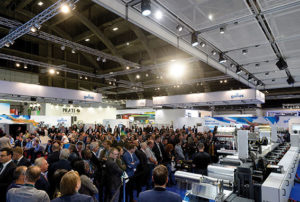 Inks, Coatings and Varnishes: Understand how inks, top and barrier coatings, primers and varnishes are being adapted and applied to modern narrow-web converting operations using: offset, flexo, letterpress, screen and combination technologies. Gain a clear understanding of how ink components interact with drying and curing technologies. Current legislation, including ink migration, will also be addressed, along with how to establish adhesion testing and quality assurance procedures.
Digital Label and Package Printing: Discover digital printing technology and the enhancements it can bring to your product offering. This 4.5-hour master class will be presented by Mike Fairley, along with other leading experts from the fields of materials, pre-press, printing technology, inks and coatings, and flexible pack formation and filling.
Brand Innovation Showcase: Labelexpo Europe 2019 will host an exclusive invitation-only showcase for brand owners and packaging designers. An afternoon tour will highlight the latest technology from key suppliers.  Brands and packaging designers will learn how to achieve stand-out product presence with their packaging, and a label and packaging showcase will explore award winning label and packaging designs.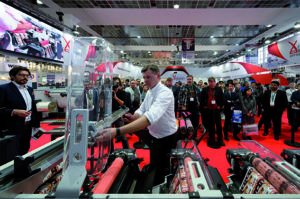 Sustainability Insight Café: Label and package printers are becoming under pressure to improve their green credentials. At this informal area of the show floor, take a moment to relax from the hustle and bustle of the show, and gain an insight into the latest sustainable products and services designed with the environment in mind, that are making a difference to the industry.
Label Academy Master Class – Flexible packaging: Gain the necessary knowledge and expert guidance that label, and other, converters looking to enter or expand their production into flexible packaging are likely to require – substrates, design and origination, press printing and converting. Learn how ink components interact with drying and curing technologies, and with packaging line demands. Current legislation, including ink migration, will also be addressed.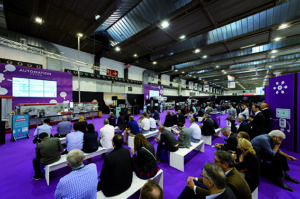 Self-adhesive label materials workshop: Understand the nature and construction of self-adhesive laminates, how they are made, the importance of materials and the need for different adhesives. Explore why different laminate constructions are needed, their usage and how to identify them, including requirements and use of different self-adhesive test methods and procedures. Learn the correct methods for handling and storage of unprinted and printed laminates, as well as the management of material wastage.
Also taking place, on the evening of 24 September, is the prestigious annual Label Industry Global Awards, which recognize key achievements in the label and package printing sector. The 6 awards include innovation, environment/sustainability and global achievement in the industry. Two of them – and new for 2019 – also cover rising stars and Europe's top converter. The gala ceremony will also celebrate Labelexpo's 40th anniversary.
Face to face with Lisa Milburn, managing director, Labelexpo Global Series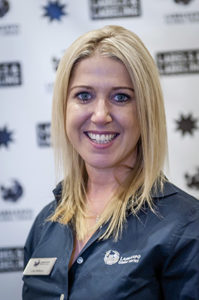 40th edition of Labelexpo: what will be the main focuses?
"This is a milestone year for Labelexpo as it celebrates an incredible 40 years, and we are marking that by creating our biggest, most ambitious show yet in Brussels. The theme of this year's Labelexpo Europe is 'move your business forward', and visitors will see a mixture of live press demonstrations, special technology feature areas and expert-led master classes and workshops".
What are the technological trends taking place in the sector?
"In recent Labelexpo shows we have seen digital become the dominant new technology trend, both in stand-alone and now in new hybrid configurations with conventional flexo printing and converting units. We are also seeing digizitation and automation of the entire workflow from pre-press to printing and finishing. Digital is also impacting post-press decoration and coating applications. At the same time, flexo technology is becoming more highly automated with greatly reduced makeready, waste and changeover times. These trends are driven by greater SKU variety and brands interacting with consumers through 'smart' label technologies.
With more label converters diversifying into flexible packaging, visitors to Labelexpo Europe will see a dedicated Flexible Packaging Arena showcasing both flexo and digital printing and converting of stand-up pouches".
Labels and packaging are increasingly at the center of the purchasing process on one side but also under accusation on the other side. How to combine the undoubted functional value with sustainability?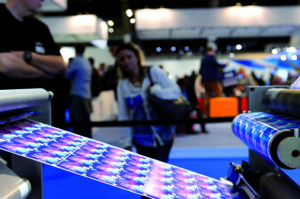 "The labels and package printing industry is responding energetically to the sustainability debate, so that will be an important focus for us at Labelexpo Europe 2019. We are dedicating an area of the show to the latest sustainable product technologies and services. These include 'switchable' adhesives which allow self-adhesive labels to be cleanly removed from PET and glass containers in the recycling process; responsibly sourced paper materials; label films using post-consumer recycled plastics; and chemical recycling initiatives which allow liner waste to be recycled back into useable material".
Brand owners and packaging buyers, how they influence and drive the market and converters' and printers' investments in technology?
"The key end user trends are towards reduced time to market, elimination of inventory, multiple SKUs, and the need to interact directly with consumers to deliver a wide range of marketing messages. This is driving the adoption of digital printing and finishing technologies and increased automation in flexographic technology, and also drives greater efficiencies throughout the supply chain – including at the convert's own business. Converters need to communicate more effectively with brand owners and buyers to decrease time to market and delivery repeat color accuracy across multiple substrates on a consistent basis, and this requires investment in new Management Information System (MIS) technology.
It is equally important that brand owners and designers are aware of these advances in label printing and communication technologies. For this reason Labelexpo 2019 is introducing a Brand Innovation Showcase – a two-day seminar created exclusively for brand owners and designers.
One focus of the Brand Innovation Showcase is how to protect brands against counterfeit and diversion in the supply chain, so technologies such as RFID, micro-text holograms, variable coding, invisible inks".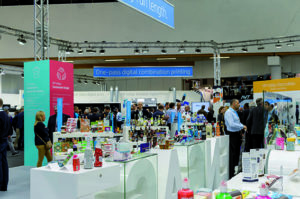 Generally speaking, which are the key features that justify the huge growth of print label market, expected to reach USD 47.89 billion in 2024 at a CAGR of 4.11% over 2019-2024?
"The label industry worldwide over the last 40 years has grown consistently at a minimum of 1-2 percentage points above GDP. The key growth driver has been the development of consumer economies with more disposable income. Western Europe, North America and Japan showed high self-adhesive label growth from the 1970s-1990s, but as growth rates in these developed economies have slowed, we have seen a take-off of consumer economy growth in Eastern and Southern Europe, and across the developing world in China, India, ASEAN and Latin America. Self-adhesive label growth is also driven by the development of world trade and by the exponential growth of on-line shopping and delivery services. Over one half of all self-adhesive label volume now goes into these secure logistics and address label applications".
How many Italian companies will exhibit at the fair? Why should an Italian label manufacturer take the plane to come to Brussels to visit Labelexpo?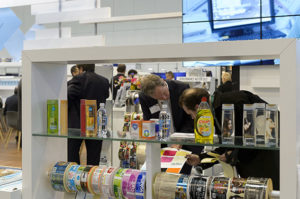 "Italy is an important European hub for label and package printing so Labelexpo Europe always attracts a large number of leading Italian label manufacturers (and companies that manufacture in Italy). They know that Labelexpo – the biggest dedicated label and package printing show in the world – is not only the best platform for showcasing their latest innovations and technology to an eager international buyer's market, but is also the perfect opportunity to network with peers and exchange ideas.
This year is no exception – we have well over 50 manufacturers from Italy exhibiting at the show, among these we remember BOBST, CARTES, Lombardi, OMET, Prati, Re, Ritrama and Rossini".