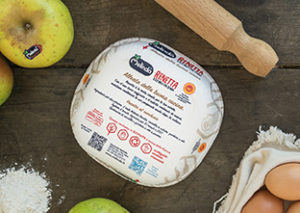 The new container is born from the collaboration between Ghelfi and Biopap, leader company in the sector of biodegradable and compostable container production. A new family of products for the vegetable sector that puts at the center sustainability and circular economy.
The package uses the most advanced technology of ink-jet printing with water inks to communicate with the users in 4.0 way, providing a consumption experience without comparisons.
Obtained from renewable resources, it converts the idea of packaging in a new paradigm: not just protection of the product but also virtuous and creative use in the kitchen. Functional, ecologic, circular communicative, conceived and produced in Italy from a completely European supply chain that thinks to future and sustainability.
"This time we gave ourselves a truly big challenge: improving the world! After one year of work, we're proud to introduce on the market the first container for fruit completely compostable" – comments Giuseppe Ghelfi, sales manager, Ghelfi Ondulati Spa – "Our customers and consumers, are always more careful to the topics relative to environment safeguard. A special thanks goes to Biopap, Consortium Melinda SCA and Claudio Mazzini of Coop Italia that, one year ago, launched us the challenge.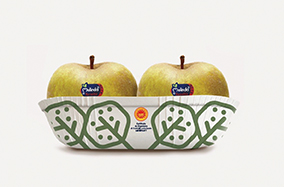 The new containers are compostable to their natural or industrial degradation, and are converted in compost useful for the soil, also thanks to the fact that there aren't glues used for the production of this packaging. In addition the flexibility of the material of this container allows to position fruits of different dimensions and finally it can be used also both in the microwave and in the traditional oven to warm all the types of food. The printability of the container allows a major interaction with consumer, also thanks to the insertion of QR codes that allow the access to further information relative to the producer.