These three companies organized a virtual event to create of a folding carton as it was printed on a Jet Press 750S in Brussels, coated by Harris & Bruno Europe in Germany, and digitally cut and creased by Highcon in Israel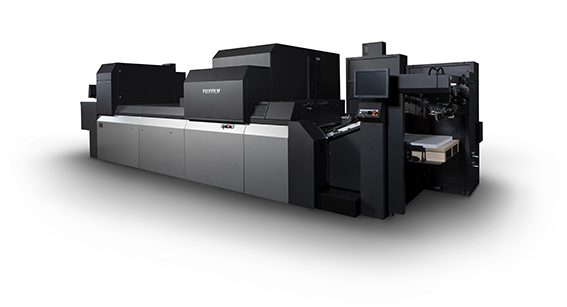 As printing market comes under increasing pressure, being able to demonstrate an ability to offer real added value is ever-more important. Every stage of the print production process has a part to play in this, and this is why, in the first of a series of online events, Fujifilm and its partners demonstrate how to add maximum value for the customer at each stage of the production process.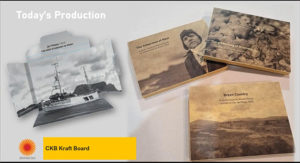 Mark Stephenson, Product Manager, Digital Printing and Press Systems, Fujifilm Graphic Systems Europe, who will host the event, explains: "the ongoing situation with the Covid-19 pandemic has made product demonstrations a huge challenge for our customers in recent months. We're used to welcoming hundreds of prospective customers to our Advanced Print Technology Centre in Brussels each year and of course demonstrating our technology at industry exhibitions and events. In light of the current situation we've decided to work with trusted partners to realize a multi-location online event".


The event has been organized from the UK, then colleagues in Brussels started live production, as online audience was watching. That work has been 'virtually' passed on to Harris & Bruno in Germany for coating, and then to Highcon in Israel for cutting and creasing.
Of course, even considering all the advantages of a virtual event, when it comes to print, there is no substitute for seeing the real thing and holding it in your hands. So all attendees had the opportunity to request a finished piece to be sent out to them after the event.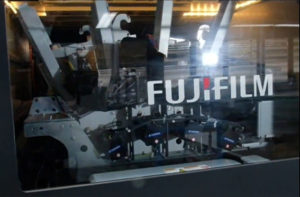 Joe Rodriguez, Technical Director, EMEA for Harris & Bruno says: "We're delighted to be working with Fujifilm on this exciting initiative. Quality print deserves quality finishing, and with this demo we demonstrated once again that our processes can add real value".
Yaron Eshel, in charge of application & business development at Highcon adds: "added-value, creative print has huge growth potential in the coming years and it needs a digital finishing solution to match".
Fujifilm's second real production show went east and built on the success of their first virtual event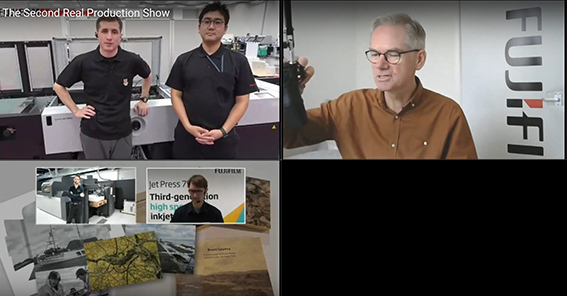 Last October online event emphasized the benefits of digital automation, integrating live production on Jet Press 750S in Brussels and on multiple finishing solutions from Horizon in Japan
Fujifilm's inaugural Real Production Show on the 24th September demonstrated the printing, coating and cutting of high-quality printed cartons. The unique 45-minute show included live production demonstrations from Fujifilm's Advanced Print Technology Centre in Brussels, followed by finishing at Harris & Bruno's demonstration centre in Germany, and at Highcon in Israel.
Fujifilm is building on this success with a second event which focused on the benefits of digital automation, using the creation of sets of high-quality photographic postcard essays as an example. These postcards have been printed in Brussels and cut and integrated with finishing solutions on the other side of the world, at the new Horizon Innovation Park in Japan. Attendees of either event that request a sample will receive the postcard sets created in the second event, dispatched in a carton box that was printed during the first show.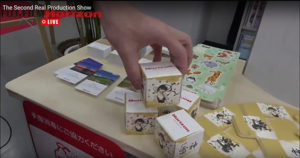 Fujifilm's Mark Stephenson, the host of the Real Production show comments: "the positive response to the first event has encouraged us to add even more content to our second show in collaboration with Horizon. Our trans-continental follow-up show is going had a heavy emphasis on automation. We demonstrated how simple it is to use Fujifilm's XMF workflow software to manage multiple job requirements, taking full advantage of the speed, registration accuracy and consistency of the Jet Press. Horizon showed how the integration of our solutions takes all the uncertainty out of complex orders, minimizing errors, reducing labour costs and maximising productivity".
Colin Flinn, who was the show host for Horizon International, says, "we showcased the labour-saving, high-production, and added-value capabilities of our systems. Viewers watched in real time as Fujifilm's prepress and Horizon's postpress solutions come together to realize the possibilities of smart factory and industry 4.0".