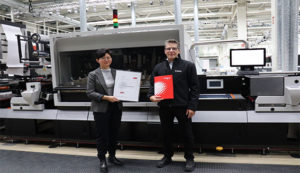 Colour, consistency, certified! Canon LabelStream 4000 series is the first digital press to have its colour gamut certified in accordance with the specifications of ProcessStandard Digital Print Check (based on ISO/TS 15311-2) with FOGRA 55 reference.
The certification validates colour and print run consistency as well as a visual check for uniformity and detail sharpness. The assessment revealed that LabelStream's colour gamut, homogeneity and coherence achieves a Level A (highest score) print output according to the Fogra PSD Print Check (based on ISO/TS 15311-2). The coverage of the colour gamut hence surpasses other 7-colour digital label presses available in the market today. The LabelStream 4000 series uses the UV inkjet printheads, Xaar 2001+ UV, which assure a high pigment load, and increased ink laydown capability.
More colour and opportunities with the LabelStream 4000 series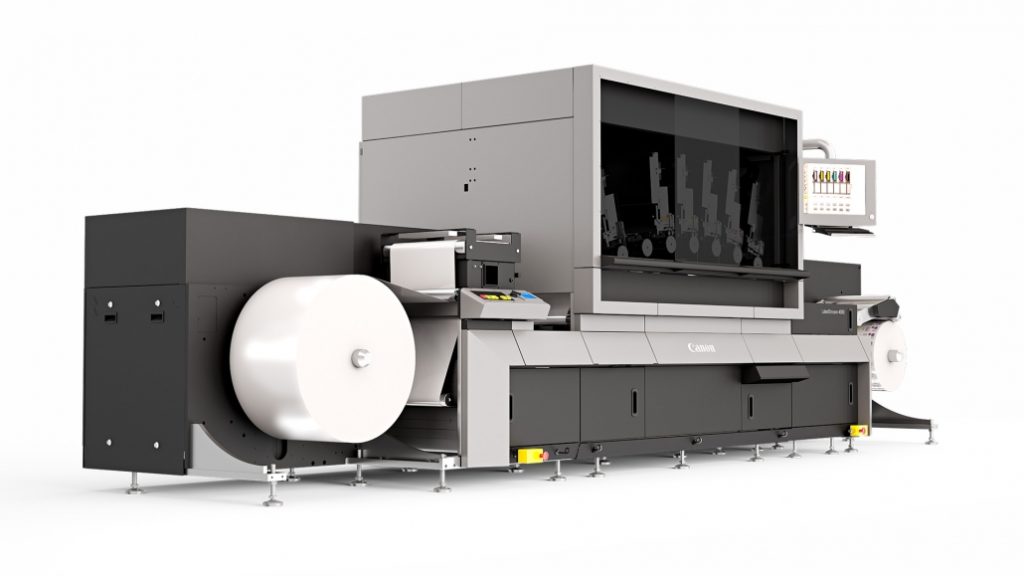 Last July Canon announced significant upgrades and optional configurations to its digital label press, the LabelStream 4000 series. Addressing the needs of label converters, new improvements include an optional orange colour channel, a high-opacity white ink, and enhanced usability for greater production efficiencies. With the LabelStream's expanded colour capability, you can add orange and white ink channels without compromising on quality or reliability. The new white ink channel achieves up to 80% opacity at 36 m/min in a single pass. Eliminate lengthy set-up times and increases cost efficiencies. With additional opacities of more than 70% at 50 m/min and more than 65% at 75 m/min, a wide range of performance levels are available.
The new orange colour extension super-sizes the gamut to match brand colours without compromising on print speed. Xaar 2001 printhead technology with the LabelStream inks attain a colour gamut of 96% with the Spot-color swatchbook at a Delta E 2000 smaller than 2, allowing for highest print quality labels and accurately matched colours on standard label stock. The extended gamut range allows converters to achieve coverage of the colour gamut that is comparable to other 7-colour digital label presses available in the market today.
Available an entry-level configuration: the LabelStream 4000 CORE unit is the ideal first step into the world of high performance, UV inkjet printing. Built on a cost-efficient, yet powerful base unit, you have the option to expand the press set-up to meet your needs.
With its reliable UV inkjet technology and a robust web transport system, the press offers print speeds of up to 75m/min and two print width set-ups of 33o or 410 mm, resulting in an industry-leading output speed of 1,845m²/hr. It is possible to integrate it with UV flexo units for spot colours, varnishing and coating.
For more complex applications, the LabelStream 4000 HYBRID configuration offers a custom mix of UV flexo, embellishment and finishing units, turning it into a fully integrated, single-pass label conversion line. This mix of conventional and digital technologies enables a complete inline production of high-quality self-adhesive labels.
The LabelStream provides faster syncing between flexo and digital print units, so you can benefit from reduced operator intervention, increased uptime and high-quality output, all with one solution. The seamless interplay of the two technologies, driven by LabelStream's central control panel, allows for easy recalling of job settings and automated job set-up. The central control panel enables job changes to take effect on-the-fly without halting the press to adjust digital and analogue elements.