Flexolution is an Italian reprohouse founded in 2016 by Luca Ferrari. He is a young and skilled technician, already highly appreciated in the market. Luca has been able to assert himself with outstanding quality that earned him two first places with jobs presented by Eurolabel and Grafiche Pradella at the recent FTA Diamond Awards 2021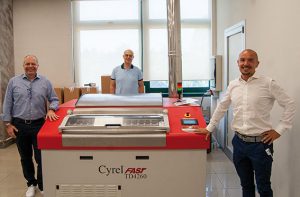 "Pre-press for passion" is the claim welcoming you at the entrance of Flexolution as well as by Luca Ferrari, a young entrepreneur with flexo in his bones, a son of art. Following the memory of his father Giuseppe, who was a mentor, guide and pulse generator for him and who paved the way to discover and study this sector, he finally started the adventure of Flexolution in 2016. Founded as a start-up that was realized with two partners, Mario Marchi and Christian Colombo of Fornietic, a well-known company in the graphics supplies sector, with a particular predilection for the label sector and important brands in its product portfolio, who identified Luca as the right person to start this joint venture.
Today, 12 people are employed in the graphic department and production area. The equipment portfolio includes an Esko laser with 4000 dpi HD Pixel Plus and the DuPont™ Cyrel® FAST unit for the narrow web market. An additional DuPont™ Cyrel® FAST unit for wide web is planned for next year. In 2018, Flexolution entered the wide web sector, obtaining important results thanks to the same philosophy adopted from the label sector, which is high quality with a customized consulting service.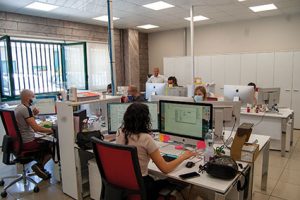 "My passion for the flexo industry was born, when I started to understand what my father's job was", begins Luca Ferrari, becoming more and more passionate about it. "The contact with the press dept., dealing with the everyday challenges in this process and finding adequate solutions is my daily adrenaline boost", says Luca with a touch of pride.
The challenge was clear, as well as the path to follow: entering the flexo prepress sector to support label printers. A challenge that a few years later seems to have already been won, despite the diffidence that Luca tells us and that he perceives when he introduces himself to new companies.
"We are the newcomers, so it is quite normal that there are some obstacles at the beginning. By offering our consulting service to new customers, they are able to obtain high quality print results.
Even their brand owners get in direct contact with us to start interesting technical discussions and we help them to understand our printing process, its limits and peculiarities, and everything that belongs to it", adds Luca.
DuPont™ Cyrel® FAST technology for a high quality standard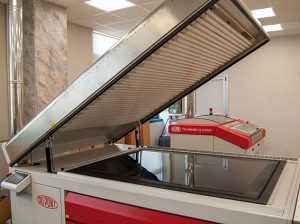 "From the very beginning, we tried to set the bar in the competition at a very high quality standard. That's why I contacted DuPont from the start and integrated the DuPont™ Cyrel® FAST TD 4260 system into our production process.
This technology allows us to serve the market with unparalleled speed and quality and focusing simultaneously on sustainability, as the DuPont technology uses a solvent-free thermal process.
I believe that DuPont™ Cyrel® FAST plates have a surface tension that ensures optimal ink transfer, especially on highlights, with a remarkable optical density.  Our goal is to serve the customer within 24 hours", explains Luca Ferrari in his office in Cornaredo (Milan – Italy). Flexolution is able to position itself in the market with very high quality standards and can convert offset and gravure into flexo jobs, but also needs to face digital printing especially in the tag & label business, where it becomes more and more present, mainly for small runs.
"We have to deal with digital printing and today we can do so with immediate start-ups, possible only thanks to the calibration of the presses and color proofing, which are able to anticipate the result of the label in production, so as to avoid any further changes during the start-up phase.
It is clear and evident that the know-how of a flexo reprohouse today is on the file management phase and on pre-press", says Luca Ferrari.
Speed and quality are the basis of our service, we must be able to support our customers regardless of the printing technology they adopt. To achieve this goal, we support our customers in the analysis of their printing press, helping them to choose the best components to be used for their needs and creating ad hoc profiles for each type of press and material. Once the color profiling of the press machine is done and tests carried out, we were even able to convince customers to convert some jobs from offset and rotogravure to flexo".
"The DuPont™ Cyrel® FAST thermal system is one of the best technologies to obtain very high quality flexo printing plates, using a process that is focused on environmental sustainability as it doesn't use any liquids or solvents.
The quality of Cyrel® FAST plates is recognized worldwide by label and narrow web printers, but also in the flexible packaging market. This recognition will grow even more with the introduction of our 3000 TD system that will allow us to develop 127×203 cm plates in a sustainable process", comments Mario Castelli Sales Manager Cyrel® Southern Europe and Northern Africa.
Quality recognized and rewarded: from BestInFlexo to FTA Diamond Awards with DuPont™ Cyrel® FAST plates
Despite the short time being in the business, Flexolution focused on its success and decided to participate to BestInFlexo awards together with their printer customers.
In 2017, Flexolution won with the label "Tesori D'Oriente" – an extremely complex graphic project, which combined different printing technologies.
Based on the success in the following editions of the Italian FTA BestInFlexo awards, Flexolution qualified to participate in the FTA Europe Diamond Awards 2020. Due to COVID the award ceremony had been postponed to April 2021, where two first places were achieved.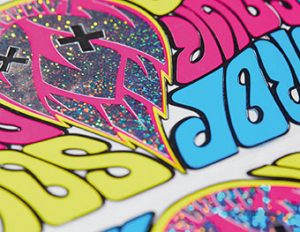 The printer Grafiche Pradella presented the work "Drop Sour IPA Beer" in the category "Creative use of flexo and innovation" and was awarded for the perfect use of different printing technologies. A digital Cyrel® FAST DFUV plate, processed with DuPont™ Cyrel® FAST equipment, was used to print this job.
In the category of flexo printing, narrow web UV inks, Eurolabel presented the job "Giardino dei Sensi", produced with DuPont™ Cyrel® FAST technology using a flat top-dot plate of the Cyrel® EASY family. "For this project the difficulty was mainly related to printing directly on the final material", says Luca.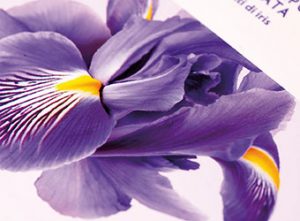 The jury appreciated the perfect composition of the background, the great sharpness of the texts, as well as the colorful flower and the high-quality images.
"Quality is a journey, both for us as suppliers but also for our printers, it takes patience, culture and knowledge of the processes and tools to be used, helping the press operator to achieve high quality. From this point of view, there is still a lot to do, especially in the wide web area, for a process that is measurable and therefore repeatable, with great advantage also on the cost side.
"In these weeks, we are finalizing the tests with the new DuPont™ Cyrel® EASY EFXR plate, the results are really encouraging. The plate allows us to have an excellent ink transfer, long print runs without press machine stops, fades to "0" without banding problems and we are sure that thanks to the use of this plate we will be able to convert jobs to flexography that are made with different printing processes today.
Finally, we collaborate with several manufacturers of printing presses with whom we always study new solutions and test materials in order to achieve, all together, excellence in flexo", concludes Luca Ferrari.