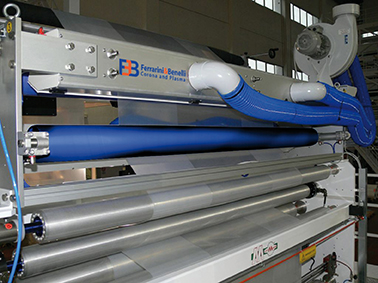 Ferrarini & Benelli will showcase Bikappa Rotary, the double side corona treatment system especially designed for blown film extrusion. It is equipped with stainless steel electrodes providing long life and resistance to oxidation. The system will be showcased in our stand and also on a blown film line running during the exhibition.
In Air Plasma: Plasma treatment works under atmospheric pressure conditions, enhancing the bonding of inks, varnishes, glues and coating on polymers, plastic parts, cardboard and metals.
The system is composed of a high-frequency digital generator with integrated transformer and one or two dedicated nozzles. The treatment area is about 10 mm wide.
Applications
Printing: Pad printing, Silk-screening, Ink-jet printing, pipes and coding of electrical cables
Laminating: improvement of the durability and reliability of gaskets, application of glue on folding cartons
Flocking on rubber and plastic
Cleaning: removal of dust and grease from plastic, steel, metal and semi-finished products.
In Air Corona: In Air Corona allows the treatment of non-conductive materials: three-dimensional plastic objects or small areas of two-dimensional plastic surfaces and also conductive materials: parts or metallic components.
The corona discharge enhances the surface tension improving the adhesion of inks, glues and coatings. The treatment width of a single head is 40 mm. It is possible to use more heads.
Applications
Ink jet and Pad printing lines for better printing quality
Coding and marking lines to improve code readability and to guarantee a long lasting bond
Label lines for better adhesion of labels on 3D objects.