The packaging industry is growing, with a forecasted annual growth rate of 1.7% until 2027. New regulations are also driving rapid change and innovation. On 9 and 10 March, close to 120 people from 18 countries joined the event "Shaping the Future with Packaging" with the support of the following sponsors: Canon, DEC Impianti, I&C GAMA, Koenig & Bauer, Kurz, and Uteco. Silver sponsors were Asahi Kasei, Bobst, Lohmann, Miraclon, and Tesa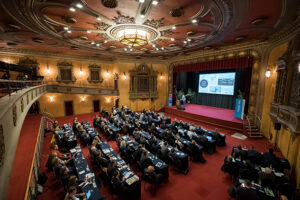 Shaping the Future with Packaging was organized by Intergraf, the European federation for the printing industry, and FTA Europe, the European association representing the flexography sector. It was supported by market research firm Smithers. Moderated by Joanna Stephenson, Founder and Director of PHD Marketing, Shaping the Future with Packaging brought together leaders of Europe's packaging industry for two days of learning and opinion exchanges. The main message emerged was that focusing on sustainability is no longer optional, it's mandatory. All speakers remarked that the packaging supply chain has a key role to play in the green transition.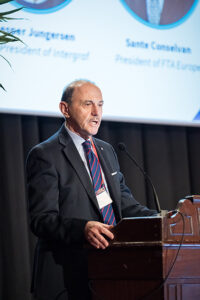 The short welcome address was held by Sante Conselvan, president of FTA Europe and Jesper Jungersen, vice president of Intergraf: they thanked all the sponsors and recalled that packaging today is part of our life and for sure also of our future, so packaging industry plays an important role in the coming years to offer sustainable but protective packaging media.
Tom Hallam from Smithers opened the conference with the latest packaging market data. Sustainability is "the primary driver of change for key stakeholders in the supply chain," wrote Tom in the exclusive market report produced by Smithers for this event. E-Commerce is a global megatrend: very important topic is aggregation of orders, elimination of void space, moves from plastic to paper, package return functionality and a reduction in volume of raw materials. As regards packaging waste Tom urged packaging producers to "be prepared, because they will have to prove that you can supply packaging that meets recyclability standards". Also digitalization is an added value because it costs 5x more to win a new customer than it does to retain an existing customer: integrating digitalization into packaging can help retain customers and attract new buyers.
Francisco Nogueira,The Coca-Cola Company, presented 'World Without Waste', Coca-Cola's platform through which they focus on sustainability.  Coca Cola objectives are: to collect or recycle 1 bottle/can for everyone sold by 2030; all packaging will be 100% recyclable by 2025 and 50% of all material used in packaging to be from recycled (polymer) by 2030; 25% of their volume globally to be refillable/reusable by 2030.
Legislations and research
Every speaker agreed that the European Union's Packaging and Packaging Waste Regulation (PPWR) will be a key driver of change throughout the packaging industry because compliance will be obligatory. Innovation is needed to meet targets set in the PPWR, with the packaging value chain already working on creative solutions.
Technical innovations are needed for Europe to reach its recycling targets, said Jan 't Hart, project manager at AIM (European Brands Association), who presented the digital watermark Holy Grail 2.0.  Using the same principle as a QR code, "the pattern of the watermark is incorporated into the packaging's decoration, remaining invisible to the human eye, facilitating sorting to improve the recyclability of packaging".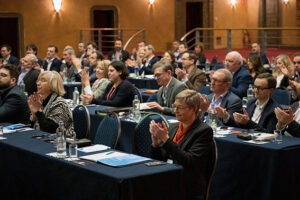 The packaging industry is an important player in Europe's evolution to a green and circular economy. Packaging producers and regulators must work more and more together to ensure a smooth transition. There will be challenges due to the complexity of different markets, different waste streams, different recycling capacities, and different cultural norms, and packaging producers are ready to face the challenges.
At the end of the event, Jacek Kusmierczyk, president of the Association of Polygraphers of Poland, met the journalists present at the conference to talk about the catastrophic situation in Ukraine. We publish in full the letter that Jacek read to us, with the certainty that this appeal will be heard.