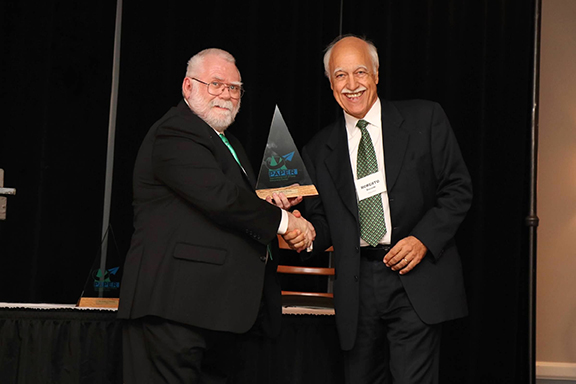 Roberto Berardi was selected for his leadership, marketing and academic accomplishments in the paper industry. He has spent over 40 years in the sector, over 30 years working in industry in roles from logistics and commercial through to marketing and managing director, and over a decade with ETS as both vice-chair, chairman and now honorary chairman. For 9 years he has been also Affiliate Professor teaching marketing principles and branding at the renowned ESCP Europe Business School and at SAA Management School.
Roberto has played a pivotal role in ETS in supporting and promoting paper tissue categories. Under his leadership ETS undertook scientific studies exploring the benefits of paper versus alternatives. Studies comparing paper towels with air dryers in commercial settings served to demonstrate the hygienic benefits of single use paper towels. Berardi also promoted the sustainable production and consumption of paper products and oversaw the issuance of industry guidelines on recycling and improving the sustainability of the industry. He also worked with ETS to ensure that government regulation and policy was based on scientific fact, promoting within the Industry the definition of 'Position Papers' on environmental aspects.
From concept to completion, Roberto has shaped ETS website comprehensive content in six language thus increasing access from 4000 to 400.000 visitors per year. In his career in industry Roberto is credited with creating and growing the paper towel category in Italy and further promoting hygiene in household kitchens.
Roberto Berardi received his honor alongside Dr Gordon Alfred Nicholls, Research Scientist & Consultant, Auckland, New Zealand who was selected for his academic and research and development accomplishments, and Donald Dick, retired from Dick Engineering Inc, Toronto, Canada, selected for his service in the paper field.
The Paper Discovery Center opened in March 2005, as a STEAM (STEAM fields are science, technology, engineering, art and mathematics) – based museum. PDC's mission, inspiring all generations, focuses on celebrating innovators with the Hall of Fame, promoting cultural heritage, experiencing technology and motivating learning.