For craft beer labels is preferred the use of paper based label substrate to mimic the wet-glue labels they replace. By going from wet-glue to self adhesive you achieve first higher reliability in the label application process and second reduce change over times and enable new range of embellishments. Certain countries require the labels to be washed of during the recycling process. Specific glues have been developed by self-adhesive label substrate manufacturers.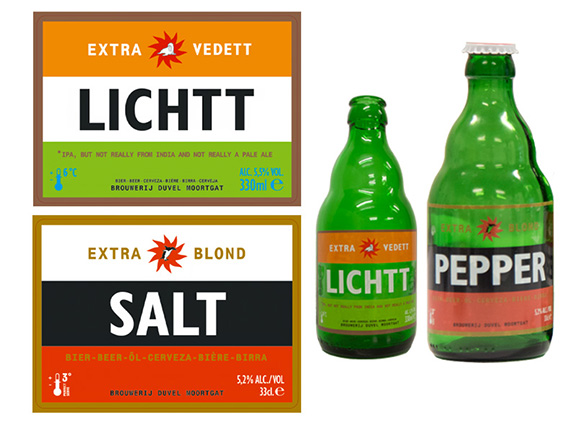 Self-adhesive labels as such are made by printing onto a laminated construction of 3 layers: a release liner (otherwise known as the backing paper, carrier or glassine), an adhesive layer and the facestock material. The laminate is printed and then converted in a roll containing the requested number of labels per roll. A web-fed process brings a high label application speed on the packaging line and allows for more embellishing processes. In addition, its flexibility of application is enormous, either during or after the filling process and on any type of surface/container just by taking another glue.
In the image is visible a self-adhesive craft beer label sample printed on a Xeikon CX500 digital press, with these production specifications: print dimensions were 60 x 66 and 80 x 68 mm; the substrate was paper based label substrate with washable glue, printed with water-resistant Cheetah toner; the finishing was performed with Xeikon DCoat Series with offline die cut.
The Xeikon CX500 has been the press of choice since it can achieve offset print quality allowing to migrate offset printed wet-glue labels to self-adhesive labels. The full rotary repeat length and variable repeat length provides the maximum productivity with a very accurate label positioning while additionally productivity gains by the broader web width (516 mm) are possible.

What is the value of digital printing for this type of labels?
The growing trend of craft beers and more diversity in the beer market create a need for shorter runs. There are a large number of microbreweries across the globe which are bringing ever more specialized and seasonal beers to market. Digital printing offers them the ability to produce these shorter run lengths of labels at an affordable price, and without compromising on their existing brand colors or quality since they need labels with eye-catching colors that stand out on the shelf. With digital, random variable image printing of multi-designs for premium labels, all in one run, now all this is made possible.
Furthermore digital printing with Xeikon offers a range of production solution with different capacities, the ability to integrate the digital press in an existing workflow, reducing administration and even overhead cost, higher cost efficiencies with run lengths of up to 4,000 line meter, besides it's possible to change SKU during printing without any additional printing cost.
Xeikon CX500 digital label press is perfect suited for craft beer label. The outperformer of all high quality dry toner digital label presses in terms of productivity, thanks to its unique web width (up to 520 mm) and its full rotary printing with speeds at 30 m/min. Dry toner technology allows you to achieve high quality, even on challenging print media and provides required durability (light-fastness); B2 format ensures productivity and provides a digital complement to conventional printing by using the same finishing process; roll-fed printing with either roll output or sheet output is a solution which enables you to serve both wet-glue (roll to sheet) and self-adhesive market (roll to roll); high quality printing at 1200 dpi allows to achieve offset quality level or beyond.