Kellogg Company, owner of Kashi and Bear Naked, considers a recyclable package as integral to its larger sustainability initiatives: by partnering with Dow and Berry Global, Kashi was able to turn a vision into a reality. The result is a completely recyclable stand-up pouch for Bear Naked granola.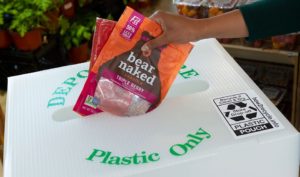 Three years ago, the Bear Naked brand embarked on a journey to develop a new package for its best-selling granola that would appeal to one of its primary audiences – the environmentally conscious millennial. According to a recent Nielsen report, half of the millennial generation considers sustainability in their purchasing intent. If successful, this pouch would deliver the sustainability that customers demand, while maintaining the feel, function and appearance that Bear Naked's audience has come to expect.
Though the industry is well aware of the importance of recyclability, creating a recyclable package that meets a brand's integrity has been a design obstacle that most manufacturers had yet to overcome, because a typical standup pouch is a complex structure, there are multiple layers and it's not easy to recycle.
The project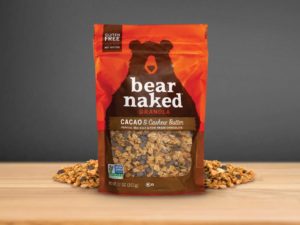 With the older flexible pouch, consumers could ship empty packages to a recycling location. But Kellogg wanted to make recycling even easier by enabling consumers to drop empty pouches at local stores within the store drop-off recycling program network (https://how2recycle.info). The packaging needed a recyclable material that met these drop-off centers' standards, however. They trialed many times but every time the pouch design was a failure. After many disappointments, Shannon Moore, Lead Packaging Engineer at Kashi, envolved Dow, and specifically its RecycleReady technology, to go on with the project.
RecycleReady Technology, invented by The Dow Chemical Co., is a sustainable packaging option for flexible films that offers a variety of barrier properties with the additional benefit of recyclability. Dow engineers adapted their RecycleReady and Retain polymer modifier technologies to Bear Naked's packaging needs. Coupled with manufacturing expertise of Berry Global (global manufacturer and marketer of plastic packaging products, headquartered in Indiana – USA) and its innovative Entour film, Bear Naked had a winning formula for a sustainable package.
This non-laminated standup pouch design was a solution that could not be realized with traditional lamination. When paired with a Dow high performance sealant, the whole structure was able to accommodate high machine speeds and hermetic sealing. Most importantly, Retain polymer modifiers compatibilized the package's EVOH barrier with polyethylene to create a film that's suitable for existing recycling streams, such as the store drop-off program in the U.S.
Over the 18-month process, the three companies improved barrier requirements and granola's shelf life. Berry Global's film, absolutely clear, allowed to create a window, so consumers can peek into the product inside. And ColorMasters leader in flexible packaging and based in Alabama – USA, used flexographic printing to apply a matte finish that provides both aesthetics and heat resistance. Dow, Berry Global and Bear Naked demonstrated how collaboration, innovation and a focus on end-use consumer needs can get excellent results.