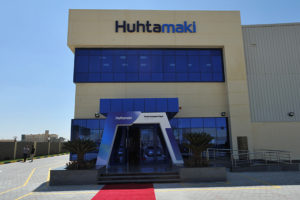 In the end of 2018, Bimec concluded an important sale that contributed to the growth of Huhtamaki, a global specialist in packaging for food and drink, accompanying it towards a major turning point: the opening of a new plant in Egypt, which will allow greater concentration on the company's exports towards European and African countries.
Huhtamaki, purchased slitter rewinders manufactured by Bimec, installed in the new plant, located in the Cairo area.
Bimec manufactured these machines according to Huhtamaki's strategic needs: it purchased them in the standard version but equipped to better meet the needs of its customers, with a focus on machines' flexibility with a view of possible future changes.
Thanks to the machines manufactured by Bimec, it is in fact possible to work on run lengths of different sizes, from small to larger ones, as well as to optimize production and reduce downtime during work cycles.
The collaboration between Bimec and Huhtamaki promises to be fruitful and competitive, able to face present and future challenges in the flexible packaging sector.