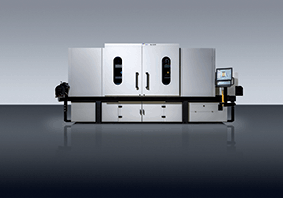 For Durs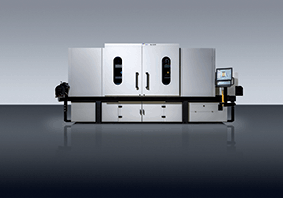 t, printing on corrugated board is certainly not a novelty and, thanks to the many installations of inkjet Multi-Pass large format systems, the background on this material is remarkable. The real novelty is represented by a strategy that saw the South Tyrolean company dedicating a specific solution for "Corrugated Packaging and Display Printing" wit h a new single-pass system that can meet quality and production needs of printers and converters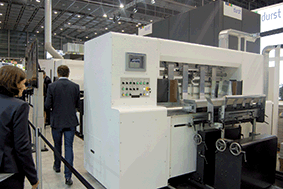 Taking advantage of the single-pass technology already employed in Tau label machines, Durst presented Rho SPC 130, a printing machine for industrial productions able to reach the speed of 9,300 sm per hour with Drop on Demand inkjet printing heads and water-based ink. Durst has great expertise in the engineering development of its machines, inks and printing heads, three key interconnected elements that build the magic triangle of inkjet printing, through which the company offers the highest quality and productivity with minimal ink consumption. The line can be configured up to 6 colors for a printing area of 1285x2485mm. Any type of paper from thickness of 1.5 mm up to 12 mm corrugated cardboard can be printed without problems with a resolution of 800 dpi. Rho SPC 130 is equipped with a UV drying system, ideal for those who need high productivity, while sheet feeding is ensured by a loader with no-Crush technology, similar to those that we usually see on traditional casemaker, but in this case designed for the specific requirements of digital printing, so as to avoid any kind of damage on the substrate that can be in some way detrimental to the final qualitative result. "With this new solution dedicated to the corrugated board packaging and display industry, we are sure to write a new chapter in the digitization of the printing process, now an unstoppable process also for cardboard industry", said Durst CEO. Christopher Gamper. The machine presented at drupa was in fully-equipped configuration, a line equipped with feeder, inspection table of material which is not conform, printing section, drying unit and the automatic stacking of printed sheets. On customer request, Rho SPC 130 can also be integrated into existing production lines.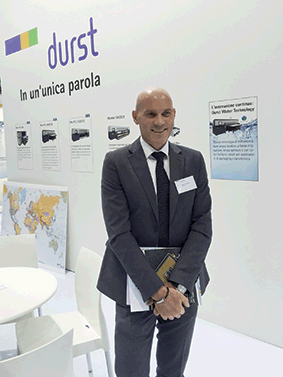 Face to face with Alberto Bassanello, Sales Manager at Durst Italy
Why did you decide to propose a single-pass technology dedicated exclusively to corrugated cardboard market?
"The decision to develop a single-pass technology dedicated exclusively to the world of corrugated board was created to answer a real need in the market, which had been looking for a long time for solutions that ensure maximum productivity for small, medium and large runs, and that at the same time would offer the possibility of personalized products. Successfully tested by Durst in other sectors, such as ceramics or labels, the technology of the new Rho 130 SPC opens a new chapter in the digitalization process of packaging industry".
What are the characteristics for which this machine will be appreciated the most?
"One of the most appreciated features of the new Durst Rho 130 SPC is undoubtedly its extreme flexibility, allowing you to respond effectively to all production requirements: from the creation of samples and customized products to large print runs, thanks to an industrial productivity of over 9,300 sm/h, Rho 130 SPC also uses water-based inks, result of the latest Durst Water Technology, with no environmental restrictions".
For what type of customer is suitable the Rho 130 SPC?
"Rho 130 SPC is the perfect printer for the entire packaging, flexo and converting industry, which is looking for innovative, flexible and efficient solutions".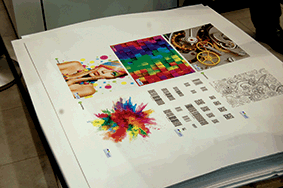 Are you satisfied with presence of Italian companies at the fair?
"We are very pleased with Italian and international presence recorded at the fair, where our stand was a magnet for the entire duration of drupa. Many contacts put in place at drupa have already led to real negotiations and we are already working to fix personalized demos with customers and prospects actually interested in our new technology. Not only this: we already signed many orders already for the whole range of Durst products. Just at drupa, in fact, many customers have brought to a conclusion already started negotiations regarding all types of machines that we currently have in our portfolio.
Which kind of comments have you collected about your technology proposals?
"The feedback received at the fair was very positive. Customers and operators in fact did not expect to be confronted with such a new technology like the Rho 130 SPC, and already fully operational, engaged during exhibition in live demonstrations with real industrial production simulations".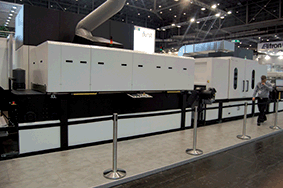 How many orders have you gathered from Italian companies, and which technology did you sell?
"As mentioned above, we have signed many orders at the show, also with Italian companies, interested not only to the new single-pass technology (for which we are organizing first customized demo), but to the whole range of our printing systems such as Rho P10, even in corrugated version, TAU and roll to roll solutions like Rho 512 or Rhotex series for soft signage".