Despite this overall drop, numbers were instead proportionately more important for the presence of the Uteco Group, which during the eleven days of the fair counted approximately 5000 visitors interested in their technologies (5 times the previous edition!) in their own and in other stands with Uteco machinery, coming from every corner of the globe (both consolidated and emerging markets) including even the numerous brand owners of leading multinational groups in the food and beverage, healthcare, and paper industry sectors
The Uteco stand featured a technological layout that guided visitors through all the printing and converting technologies (flexo, rotogravure, di­gital, offset, hybrid, coating and laminating) as well as various other innovations studied and developed in the cutting-edge Ute­co R&D Centre, ConverDrome® in collaboration with important technological par­tners and international institutes and universities, like in Green Technology field (EB3 Advanced – UV Led – Water Base Ad­­­vanced) and other applications in data acquisition sectors (UDAA), printed electronics for active packaging (RFID), protection and communication of the "Stealth Code" brand and products, many of which are protected by ne wly deposited patents. Two daily demos draw attention of many operators, that could appreciate up close the many technological news proposed by this Verona-based manufacturer. We spoke about with Aldo Peretti, Ceo of Uteco Group.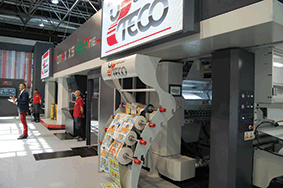 Face to face with Aldo Peretti, Ceo of Uteco Group
What has been your most popular product at drupa 2016? "The jewel in the Uteco crown was the brand new Onyx XS EcoOne, an integrated and super-compact EB flexo machine with 8 colours up to 650 mm with downstream laminating and slitting in line, presented du­ring two daily demos to an increasingly full audience. There was also an intense market interest in the new-generation colour element of the NEXT 450 rotogravure, recently presented to the market and already sold to sector clients in Europe, America, and Asia. This will be flanked by two more models, beginning with the NXS 300 narrow version for short runs".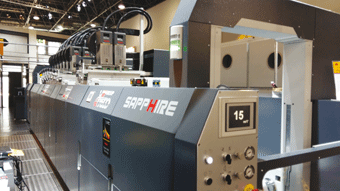 At drupa you presented many partnerships, from digital to lamination and roto-offset, can you speak about? "Another huge success was the collaboration with Eastman Kodak Company, whose stand presented 5 daily demonstrations of the new Uteco/Kodak Sapphire for digital printing on plastic films, in eptachrome (7 colours) and high-speed overprint painting with in-line wa­ter-based inks and paints that, with a maximum speed of 300 m/mn, is suitable for printing on paper and plastic film, up to a width of 400 mm (to be increased in the fu­ture-generation Sapphire EVO) and resolutions up to 600 x 600 dpi, which leading USA labelling groups for primary brands have already requested in their first pre-series versions. Just as significant was the agreement signed by GOSS with the DGPress brand in the field of Roto-Offset, with which Uteco has been collaborating for the development of the Thallo sleeve model, sold at this specific fair to important international groups. Finally, the presence in coating and laminating was important, thanks to the presentation of the Izar machine developed with Remac Converting S.r.l. for the entry level range, which was flanked by the special advanced Mistral, Horizon 4.0 and Rainbow Evo models".
Uteco analysis after this drupe is…?
"Extremely positive. This year Drupa once again confirmed itself as a perfect B2B fair and platform for significant business decisions for Uteco. During the eleven days of the fair Uteco signed 18 contracts with clients from Europe, America, Asia, and Africa for all the technologies illustrated for a total of about 22 million euro".
What are your future challenges?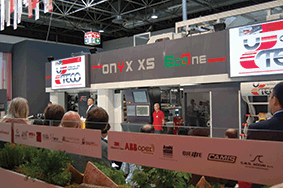 "Uteco's participation in concomitant events during the drupa fair was also outstanding (including an important symposium as main speaker on EB technology and a stimulating debate/interview with other world players at DFTA) and the high-profile open houses held in our plants in Europe and in the USA. Today the group is, more than ever, not only a leader in all printing and laminating technologies, but also in the development of technological innovations in many other industrial sectors… even in aerospace. Moreover, the company is now supported by an increasingly renovate internal organisation (Lean, 6Sigma, Kan-Ban, SAP), which is continually consolidated by new investments in human resources, machi­ne­ry, plants, and structured 4.0".
Next appointments where it will bel possible to see your novelties?
"Uteco Group is looking forward to meet you all at the forthcoming K 2016 Fair (Düsseldorf, 19-26 October), the most important fair in the world for plastic and rubber materials, and – before the next drupa in 2020 – at the "The Innovation Alliance" 2018 event, taking place in Milan, Italy, 29 May-1 June 2018), in a format that combines Fiera Milano with the top Italian fair of PRINT4ALL: Converflex/Gra­fi­talia/Inprinting+Plast, Ipack-Ima, Meat-Tech, Intralogistica Italia".