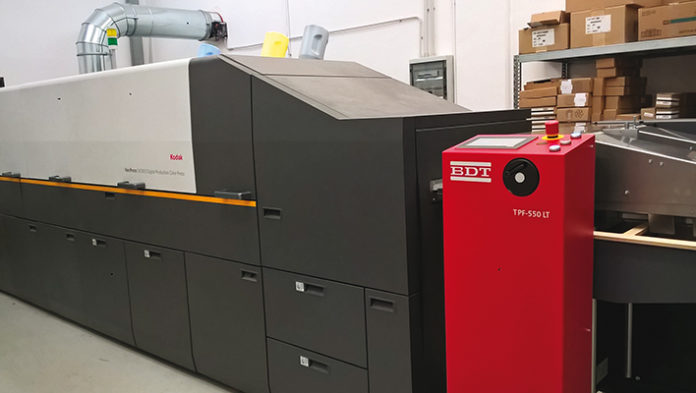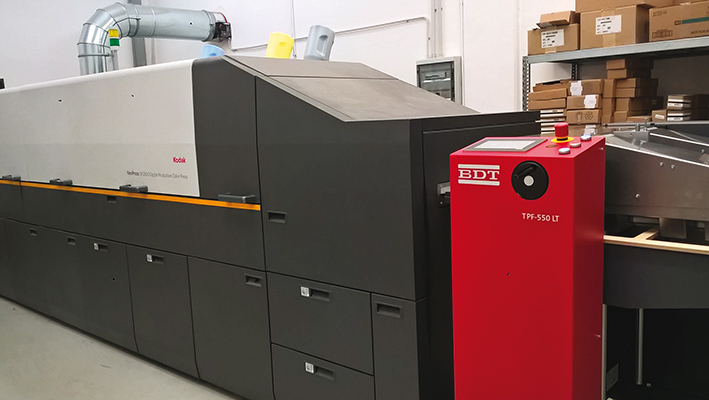 This young and versatile company has installed a Kodak NexPress SX3300 to assure quality, flexibility and creativity to its customers, today also in the field of blanks and folding boxes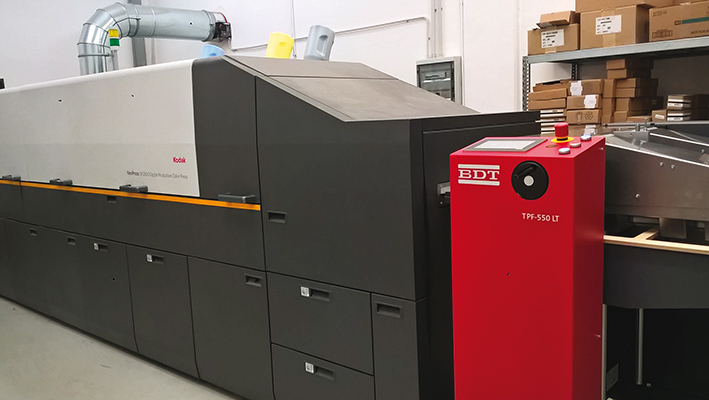 Tipografia San Martino, which is based in San Martino in Rio (RE), was born 35 years ago from the desire to get involved of two partners-friends, Stefano Caffagni and Alfredo Lugli. The first curious and attentive to market changes and social aspects, the other featuring a more technical approach. They began their adventure as pure printers, then became lithographers and today are providers of printing services at 360°. They do not just have a creative staff, they do not print only in offset, but also digitally with the new Kodak NexPress SX3300 with BDT sheet feeder and are also online with the site www.mybrochure.it.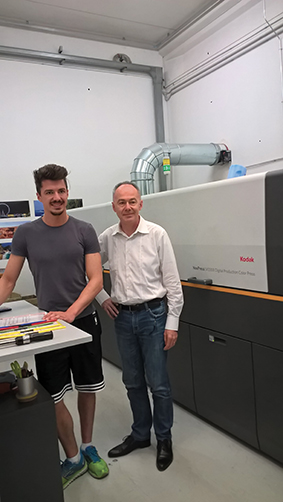 The company has fifteen employees and the types of products manufactured are really many: from book to the instruction manual, from small cardboard packaging to commercial advertising, from brochure to book, from the little magazine to shopping bag. Machines fleet includes offset in 35X50, 50×70 and 70×100 format; a finishing department, withsaddle stitching systems, die cutting and cutting, perfect binder, to ensure rapid delivery. Obviously, there is also a prepress department with CtP. The company is using Kodak Sonora XP process free plates, perfectly in line with printing runs and other choices of the company to protect the environment. Tipografia San Martino is FSC certified and produces directly over 30% of the electricity used in the production process thanks to a photovoltaic system that generates more than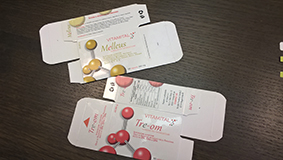 20,000 kWh per year; since 2009 it uses, for all items printed in process colors, vegetable oils inks that provide excellent color rendering, especially on uncoated and recycled papers.
The digital project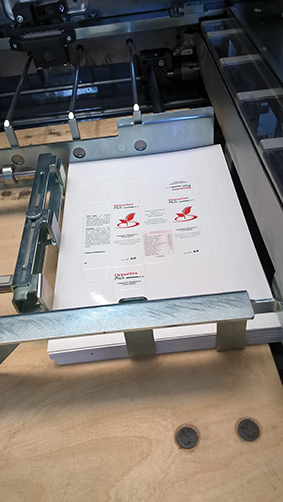 As regards digital printing Caffagni says: "when you choose digital printing you are embracing a cause, a different way of thinking about printing, because the Kodak NexPress SX3300 is a digital system, which requires care and attention in the management of files and color. When we chose Kodak, we were aware that the relationship with the supplier would not be limited only to the purchase, but it would be established a long and deep relationship, covering the entire machine system, from consumables to maintenance up the management of problems and updates. Kodak is no longer a supplier, but a partner, who also guaranteed impeccable assistance".
Tipografia San Martino realized that could not satisfy any more printing in offset the demand of middle-short runs with acceptable margins, "it was no longer convenient for us to print this type of runs in offset: the time was ripe to buy a digital solution and the quality is excellent; if until yesterday it was not possible to obtain offset quality with digital printing, today it is no longer the case: today it is even difficult to perceive the difference between materials printed in offset and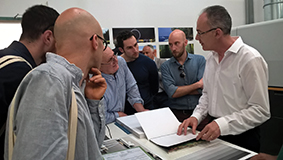 digital". Offset solutions present in the company in this way can work better, being used only for longer runs.
With Kodak it was love at first sight. The company was looking for a competitive solution in the market and that had a very good print quality. "'Another feature of the Kodak NexPress SX3300 which convinced us is its 35×100 cm format, this allows us to print digitally many types of printed materials. Another determining factor in the choice was the registration accuracy guaranteed by Kodak Nexpress SX3300 between face and back printing, thanks to its special perfector. Very important also the possibility to print on any type of paper, without the need to apply a primer or anyway without treatment before printing. Not least the name Kodak is a guarantee, synonymous with reliability", says Caffagni.
Tipografia San Martino with Kodak NexPress prints also blanks and boxes
Today small runs are absolutely strategic. Among the company's customers are the ceramics and fashion industry, which prefer to make more catalogs in a year, always offering new products: digital printing is perfect for these types of prints, which require extreme quality and fast deliveries. About fashion Caffagni cites a catalog that the client wanted to print on a 65 g paper for wine labels, therefore very light and very absorbent, which in offset would have been impossible to print: with Kodak solution the result was excellent.
The quality guaranteed by Kodak NexPress SX3300 is perfect because the company uses among others Kodak NexPress Light Black HD Dry Inks. These inks with microparticles reduce graininess and provide more uniform continuous tones, particularly suitable for photo-quality prints. They reproduce truer skin tones while maintaining superb detail and more realistic neutral and gray tones. This solution uses proprietary algorithms to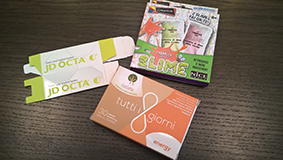 substitute the light black for specific colors and is ideal for printing commercial images at high-level for photographic applications and marketing materials. Furthermore, by using the fifth printing unit, transparent and glossy varnish can be applied, Pantone colors can be printed, as well as gold and silver.
Today, confirming the fact that digital printing is a real catalyst for creativity, and since Kodak NexPress can print media with a weight of up to 400 and 600 g, Tipografia San Martino is also active in the field of boxes, folding boxes for the parapharmaceutical sector, for products of alternative medicine or herbal products, cosmetics; cardboard blister holders for garden or mechanical tools and simple blanks such as sachets holders. The print runs can reach 10-20 thousand copies, because thanks to the long format of 100 mm, and if the boxes are small, these runs can be realized without problems. All this is possible also because few month ago the Kama ProCut 76 die-cutting machine has been installed, to die-cut the digitally printed cardboards in the best possible way.
An event dedicated to boxes and packaging manufacturers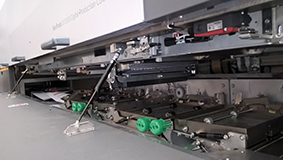 Just to highlight all the possibilities of digital printing with the Kodak NexPress, which reserves many positive surprises if you are competent and curious in exploiting its many potentials, last May Kodak, in collaboration with Tipografia San Martino, has organized an open house at the headquarters company. More than 30 companies have accepted the invitation and have followed with great interest the digital printing of a folding case and its subsequent die-cutting with the new Kama ProCut 76 die-cutter. It was a real production work, not a a demo print. "We are very satisfied with the success of the event, and we hope we helped our colleagues, who have seen practically the possible applications with the digital solution Kodak NexPress", said Caffagni.