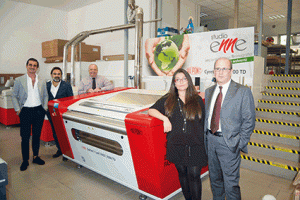 DuPont™ Cyrel® Fast 2000 TD: first installation in Italy. Located in Castel San Giorgio (SA), Studio Enne, was the first prepress service to acquire a DuPont™ Cyrel® FAST 2000 TD to produce plates. The company has also been certified by DuPont for the production of solvent-free printing plates
In existence for more than 19 years in the flexographic prepress market, Studio Enne and its founders, Vin­cen­zo Napoletano and Annarita Nacchia, chose DuPont™ Cyrel® FAST thermal processing technologies to support their commitment to sustainable production, one of the founding va­lues of their company.
Studio Enne primarily serves the Italian wide web flexible packaging market, but thanks to the quality of its products, are now working with European printing companies that rely on its prepress service…
"We started this adventure 19 years ago with two computers and a printer in a small room.
I remember it with affection, and when I look at my staff and the company we are now I'm very proud and I can't help but thank everyone. We started with very few resources, but we had Enzo's great flexo experience gained in previous years and my passion for packaging and communication world. The objective that we have set ourselves has been straightforward: to produce flexographic printing plants with an eco-sustainable approach without the use of solvents", says Anna.
Enzo and Anna represent two sides of the same coin: Enzo is shy and discreet, with great technical preparation; she is extroverted and very communicative. Together they gave birth to a company that the market appreciates for its versatility, where the specific competences become quick and concrete responses. In the packaging world, it's important to combine to the cre­ative idea the technical feasibility, because "a good packaging is born from the re­se­arch for solutions between functionality and communication". This is a statement you can read at company's entrance.
The right choice for Studio Enne: DuPont™ Cyrel® FAST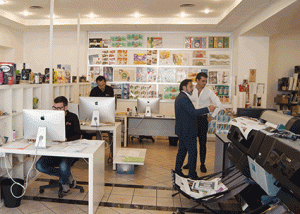 The features of the DuPont™ Cyrel® FAST system immediately convinced the two partners that this was the right technology for their company. Cyrel® FAST demonstrated a 53% savings in greenhouse gas generation and a 63% reduction in non-renewable ener­gy consumption, reduction of costs for waste disposal thanks to the use of a process with­out solvents, assuring a healthier working en­vironment. All this with a platemaking tech­nology very innovative and highly productive, that can produce plates ready for printing in one hour at maximum.
What more can you ask? "The first print results spoke for themselves. Once we tried these plates, we realized many customers have decided to increase the use of photopolymer products produced with FAST. The absence of the solvent also provides a stronger and more stable dot, and allows for faster machine set-ups and also ink transfer is better. FAST system produces plates with excellent quality and consistency. The absence of solvent stresses the plate less and if properly stored, is perfectly preserved for future reprints", says satisfied Enzo Napoletano.
Competence-specific network for winning results
Following DuPont specifications, Studio Enne has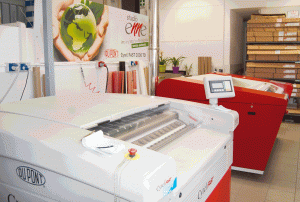 implemented the right production standards required to achieve a quality product. "One of the advices that we have suggested to our customers is to use specific tapes for mounting FAST plates on the cylinder. For this and other aspects regarding plates use, we are constantly supported by DuPont to ensure high quality results".
"The synergy with DuPont, the great expertise of our staff and ultimately the collaboration with customers, combined with the la­test generation of technologies and software, have been the key to achieve excellence results. Our strength was this: we believe that all hand fingers are useful and together they are stronger", underlines Anna.
80% of the plates Studio Enne uses are DuPont™ Cyrel® EASY FAST digital plates.
Today, in the production department, there are three DuPont™ Cyrel® FAST systems, in­cluding the 2000 TD, installed a year ago, to be followed shortly by the fourth FAST 2000 TD thermal processing unit with a new CDI, to cope with the amount of work.
"After a year we are very satisfied with the results achieved in terms of quality and productive growth, guaranteeing our customers a quicker response. We are also increasingly convinced that we have taken the right path choosing to be a 100% Cyrel® FAST company, using a technology that has the lo­west available environmental impact at world level and is in line with current requests of flexographic and packaging industry, whose trends, driven by sensitivity of consumers, are going increasingly to­wards ecologically sustainable products thr­­oughout the supply chain", concludes Enzo Napoletano.