The leading paperboard and industrial graphics company, based in Bologna, has invested more than 5 million to expand its production site, inaugurated in Anzola dell'Emilia (BO) on 11 October in the presence of Confindustria, customers and suppliers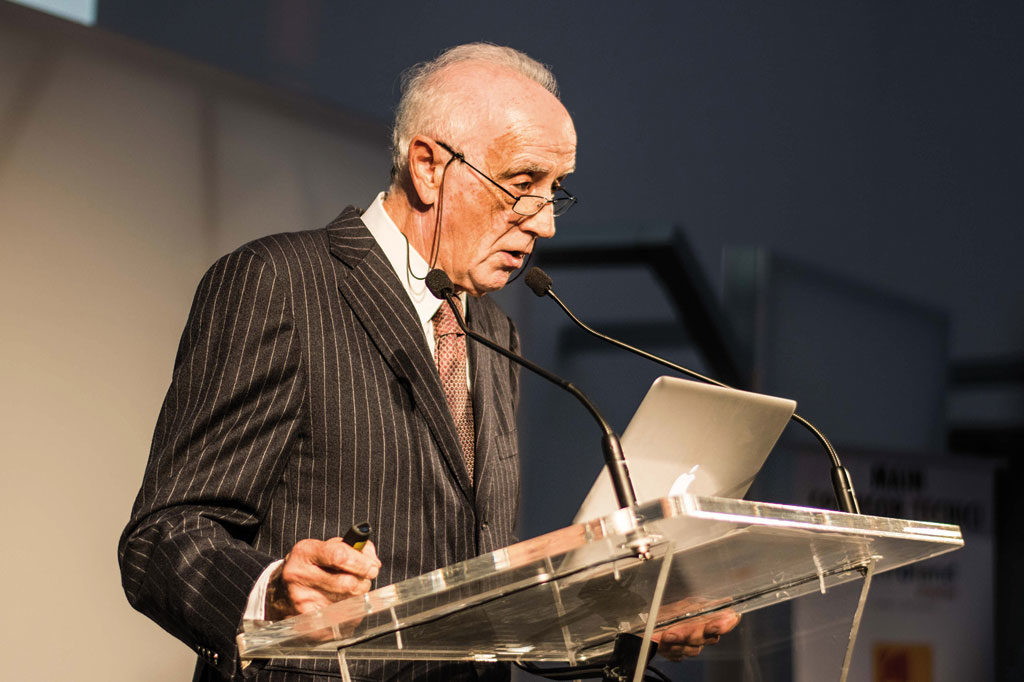 Labanti & Nanni, a leading company in the field of graphic paperboard industry, and a historic company of Bolognese manufacturing industry, inaugurated its new office on 11 October, which was born out of the enlargement and complete renovation of the existing one, which took 14 months of works and an investment of 5.3 million euros.
Important numbers for a steady growth
The operation has quadrupled the previous surfaces and the operational headquarters are 24,000 square meters wide, 9,000 are factory and offices. Founded in 1953 by the two members Labanti and Nanni, the company is now led by Antonio and Fabio Bonacini, Andrea Fanti and by a management that has stimulated and accompanied a very significant growth, both from economic and employment point of view.
Actually, the numbers show a growing and ever-improving reality: between 2006 and 2016, in the midst of the economic crisis, turnover grew by 136%, while employees grew by 140% (today collaborators are 72). In 2016 sales were 13.7 million euros, while the turnover expected in 2017 is 15 million, while in the following years the aim is exceeding 22 million.
"In our more than 60 years of activity, we have dealt with important acquisitions and four moves, which have made us grow to our present and quite great dimension" says the president of Labanti & Nanni, ing. Antonio Bonacini. With the expansion and renovation of the plant, we will compete with the highest national and international standards in our industry, offering old and new customers a top-quality, more efficient and customized service".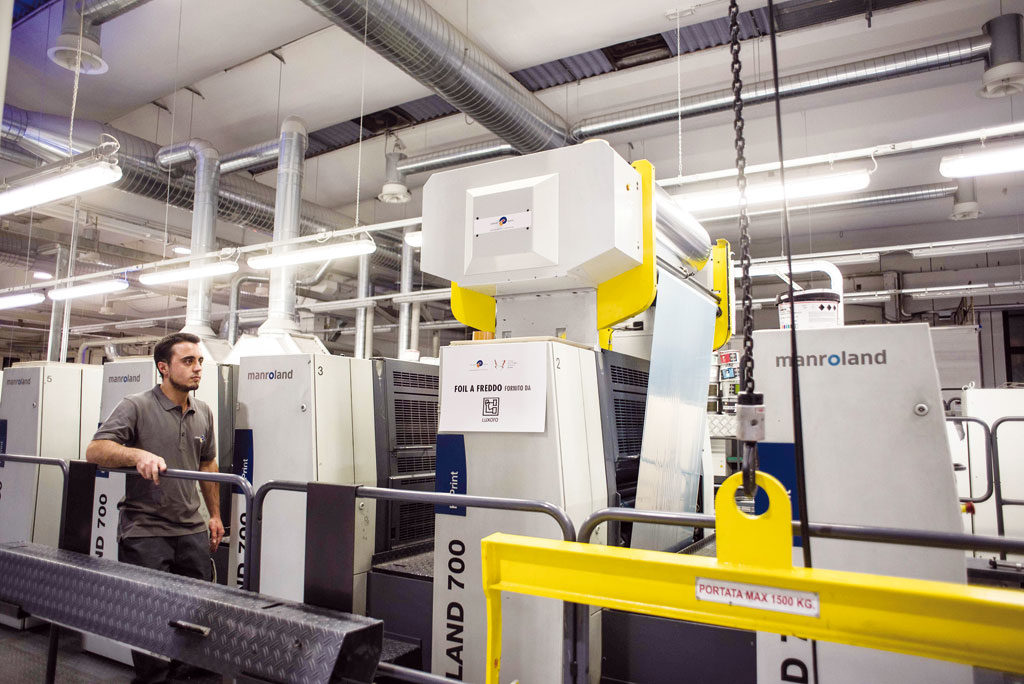 Excellent technology partnerships
At ribbon cutting were present the chairman of Confindustria Emilia, Alberto Vacchi; the auxiliary emeritus bishop of the Diocese of Bologna, Ernesto Vecchi; the mayor of Anzola dell'Emilia, Giampiero Veronesi. The event was also possible thanks to the contribution and collaboration of companies that are technical partners of Labanti & Nanni: Bobst, Burgo Distribuzione, FlintGroup, Kodak, Luxoro, Edigit, Tecnolaser, Manroland Sheetfed, OM Still, Zund.
For this important occasion, Labanti & Nanni wanted to showcase the various stages of processing needed to give shape to a paperboard product: from research and development of the initial idea to storage and processing of raw material in the "smart" warehouse "; from color printing with a special UV LED lamp machine (unique in the world), to the finest precision die cutting and final product packing. Company's guests could follow a special path to the discovery of the new production plant that led them, stage by stage, to the realization of a final gift-gadget, a tangible result of a complex and high-quality process.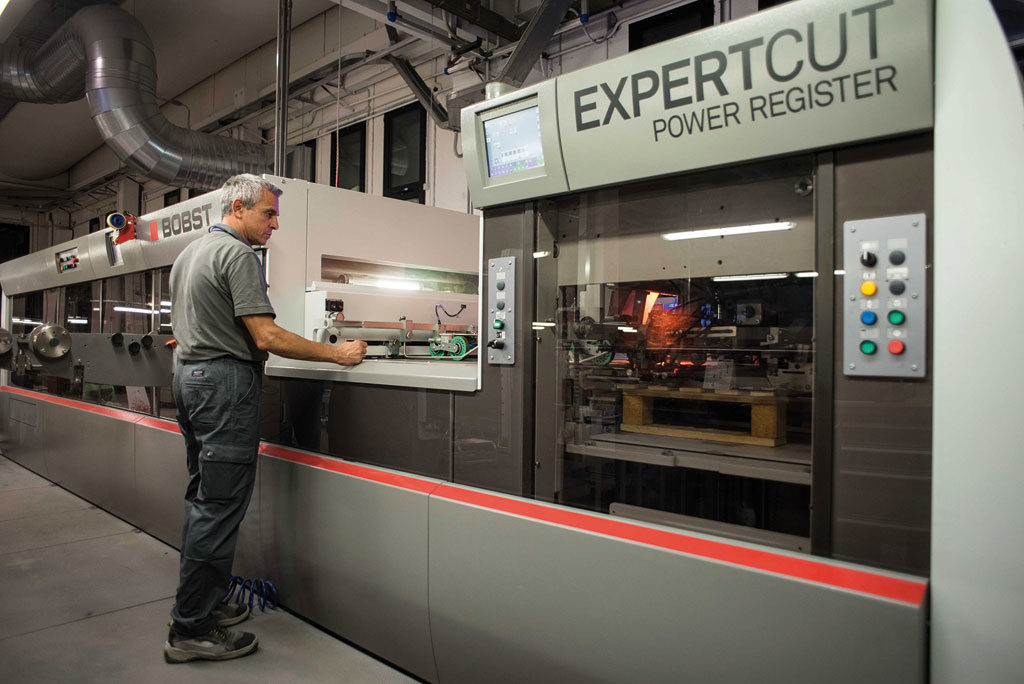 A record fleet
Among the machines, the Manroland 710 PLV printing machine: Labanti & Nanni was the world's first company to install a UV LED lamp unit with outstanding results from all points of view. Two Eltosh UV LED lamps have been installed on the 10 colors Manroland, so the system allows to increase print quality, lower operating costs, and respect the environment, printing full runs quickly. The machine used by the company also implemented an Inline coating smart flexo unit and Cold Foil laminating equipment in line with the print. The machine's versatility that works with different configurations allows a monthly production of 1.9 million pieces.
"The work we have done with this machine and the results obtained," says President Bonacini, "are the sign of our will to make even more complex and valuable processings and reduce production times, because that is what our customers are asking us every day. Besides this technology allows to significantly reduce energy consumption, with a very low environmental impact, and have a printing process without dust emissions and a lower drying temperature".
The inaugural visit of the plant also focused on the Zund G3 XL-1600 digital cutter, used by the prototype and mini productions design team in the R&D prepress phases. It can cut paper, cardboard, PVC, PET, DBond, laminil, polystyrene, rubber, plexiglass up to a thickness of 5 cm. The team also uses CtP technology to create plates and ensure maximum print quality, and offers a continuous exchange of data with customers via FTP to receive project requests in the shortest time possible.
Great interest of visitors also for the MODULA dies warehouse. The intuition of Labanti & Nanni was to put dies in a vertical drawers storage, creating the first installation in the world for this use. Picking and archiving management is entrusted to a software that searches for die code and automatically brings the die in the collecting rocker, speeding up all the operations. With this technology the dies remain clean because they remain closed and do not undergo twisting, being placed horizontally.
Big numbers also for OM STILL dynamic blocks store, a storage area of ​​1,100 sqm, with total computerized management, which can hold up to 3,300 paper pallets. This type of warehouse, in addition to optimize working times and minimizing errors, allows a storage that limits the deterioration of raw material.
A step in the visiting path was also reserved for Bobst Expercut PER 106 die-cutter, a top-of-the-range machine equipped with the Power Register system, which allows you to die-cut with the utmost precision, efficiency and speed.
The public saw the folding-gluing phase, made by Bobst Expertfold A1, equipped with Easy Feeder and Cartonpack accessories. An anti-mixing up and glue control system accompanies machine operations, and the Flipper system automatically eliminates not-conforming folding boxes.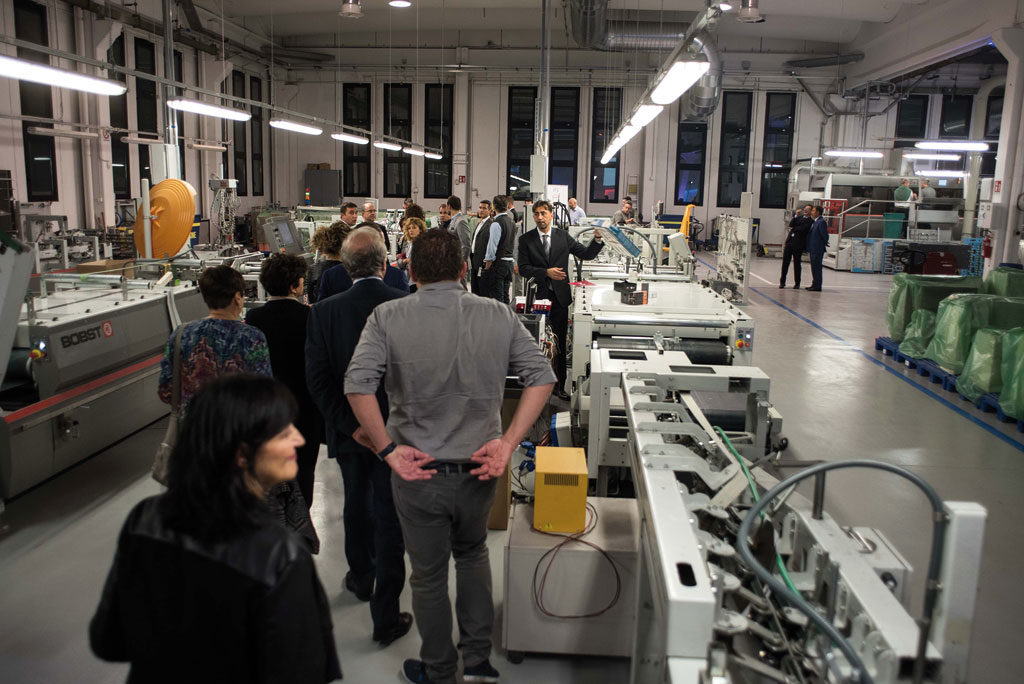 Face to face with Antonio Bonacini, president of Labanti & Nanni (LN)
Growing is not easy, do it during crisis years is almost impossible. What is your winning recipe?
"The growth that LN has consistently experienced throughout the crisis period (2007/2013) has a very simple recipe: competitiveness = investment, customer service, high quality of our product, few 'not-conformities' and a continuous collaboration relationship in being constructive and proactive to help customer to solve their problems".
What is the sector in which you think to grow more and why?
"The industry where we think to grow more is the high range packaging. Because it offers greater added value and less competition".
What do your customers ask and what do you ask your suppliers, or perhaps better define them as a partner?
"Our customers ask us for quality and service, that is punctuality in delivery, efficient customer service, and a nearly spasmodic collaboration relationship aimed at solving problems quickly and possibly avoiding them. We also ask the same our suppliers, and we consider them as real added collaborators".
Do you use digital printing machines? If you are using it, what kind of machines and for what types of work?
"We are not currently using digital printing machines, but we are studying how to apply this technology to small runs for packaging".
Do you foresee new technology investments in the near future?
"Yes, for print and die-cutting department".
How it is configured your environmental policy today and how did it evolve over time? Does the market require environmental certifications and credentials?
"Our environmental policy has given an exhaustive answer with the inauguration of the new headquarters on 11/10: it meets all current safety criteria, environmental conditions at the highest level, the plant is all conditioned and provides all the necessary tools to obtain certifications to operate, for example, in the food /pharmaceutical sectors".