Last year, at Drupa, BOBST presented the most automated and productive die cutter ever made: the new AutoplaTEN MASTERCUT 106 PER. This model of Autoplaten® features a range of innovative features that make it easy to set up, operate, precision and reliability and now is available on the Italian market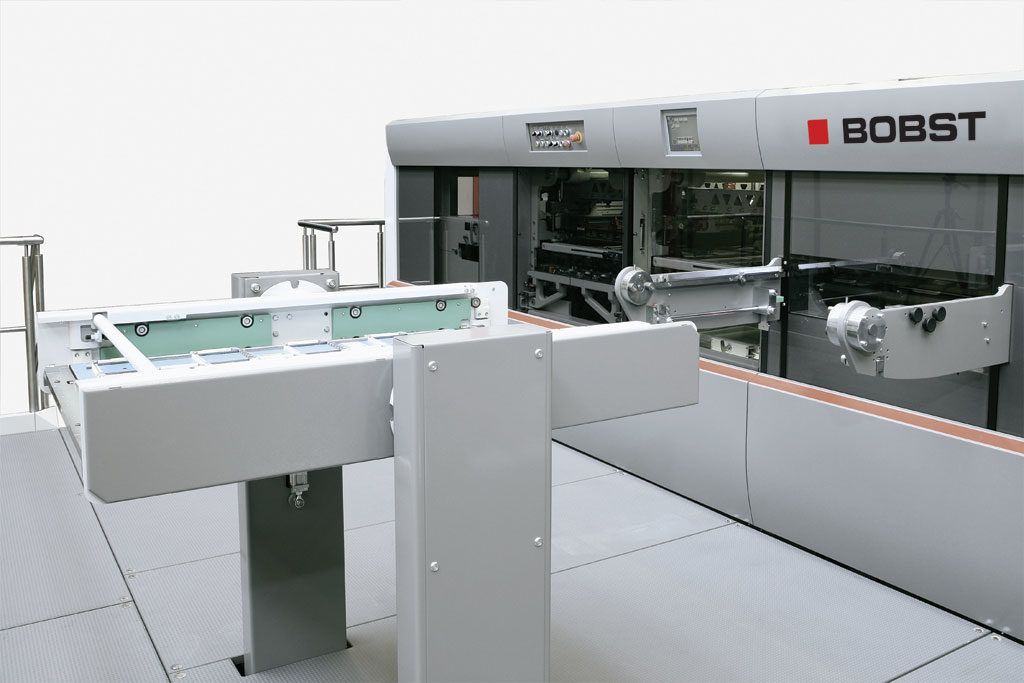 MASTERCUT 106 PER can handle an incredible variety of ma­te­rials from 2,000 g/2 cardbo­ard (and corrugated cardboard up to 4 mm thick) to 70 g/m2 lightweight paper.
The maximum size of the supported sheet is 1,060×760 mm and the minimum size is 400×350 mm. Despite offering complex per­­formance, setting up and using MASTERCUT 106 PER is very simple, thanks to the new human-machine interface.
"MASTERCUT 106 PER is our Autoplaten® die cutter in 3b format. A wide range of innovative technical features increase productivity while minimizing the total cost of own­ership. With a speed of 11,000 sheets per hour, the new MASTERCUT 106 PER has set a new benchmark for the industry, not only in terms of productivity but also of economy: the combination of high speed, quick start-up and low TCO generates a cost per sheet extremely competitive", com­ments Emilio Corti, Head of Sales of Bu­siness Unit Sheet-fed.
High-quality realization and engineering are the heart of every BOBST die cutter.
Thanks to the rigidity compensation principle, the tools last for a longer time.
The platen cam movement reduces the number of attack points needed. The Centerline alignment system allows you to align the to­ols out of the machine. The automatic stripping system is able to quickly remove even the smallest scraps, while automatic separation of die cut products guarantees a perfect balance between strength and precision on any layout and material.
In addition to existing building and automation features that make BOBST the market leader, MASTERCUT 106 PER adopts new systems that allow uninterrupted production, with a significant reduction in start-up times. Systems include POWER REGISTER 3 and an improved version of SMART FEEDER 3 which, used together, assure uptime and high running speed. POWER REGISTER 3 is a "contactless" sheet registering system now ca­pable of operating on a wider correction area (more than 65%) and virtually eliminating any interruptions due to sheet loading problems. This version also allows bottom prin­ting, a must for laminated sheets.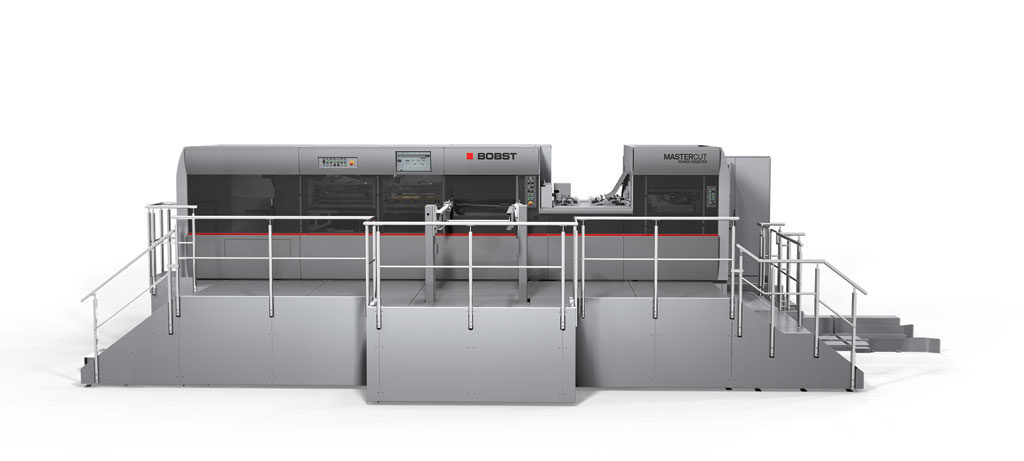 SMART FEEDER 3 is the latest version of the automatic and intelligent system for loading sheets. Thanks to the new human-machine in­terface and MATIC systems, it's enough to insert the sheet size to activate cutting-edge automatic functions.
The new MATIC systems allow the machine to configure by itself automatically from the sheet feeder to the output, providing the hi­ghest level of automatic operation of any die cutter available on the market.
This saves approximately ten minutes per con­figuration. The optional APT (Automatic Pi­le Tran­­sfer) system provides piles and pallet tran­­sfer from the feeder to the output, re­ducing operator intervention and increasing productivity. Quick Change brings together se­veral features that make steps from one job to the other easier and faster than ever.
It is possible to insert directly into the die cutter the appropriate tools with certainty that they will be perfectly aligned and ready for use.
Less sheets at start-up, more uniform die-cutting quality and reduced downstream over­­production requirements: MASTERCUT 106 PER is not only efficient, but is also environmentally friendly. BOBST engineers paid special attention to ergonomics and the result is a brand new and intuitive human-machine interface (HMI) used by operators to control every aspect of the machine. All settings can be accessed on a single page through the 22" color touch screen, which guides the ope­rator to the full setup of the machine, step-by-step. The interface can save up to 5,000 jobs, which greatly accelerates repetitive job creation. The various cameras surrounding the machine allow the operator to remain on the podium and at the same time monitor the activities on both sides of the machine. BOBST has developed a full range of high-end services, including everything you need to keep equipment in perfect condition, maintain optimal production levels, im­prove quality, and ensure maximum safety.
BOBST certified engineers are available for on-site assistance and provide quick access to spare parts and consumables.
BOBST offers experience and innovative so­lutions that help customers make the most of their machinery and improve productivity and quality. In addition, Remote Assistance Ser­vi­ces allow to monitor production and, through re­porting, conduct productivity analyzes to make informed decisions about the necessary corrective actions.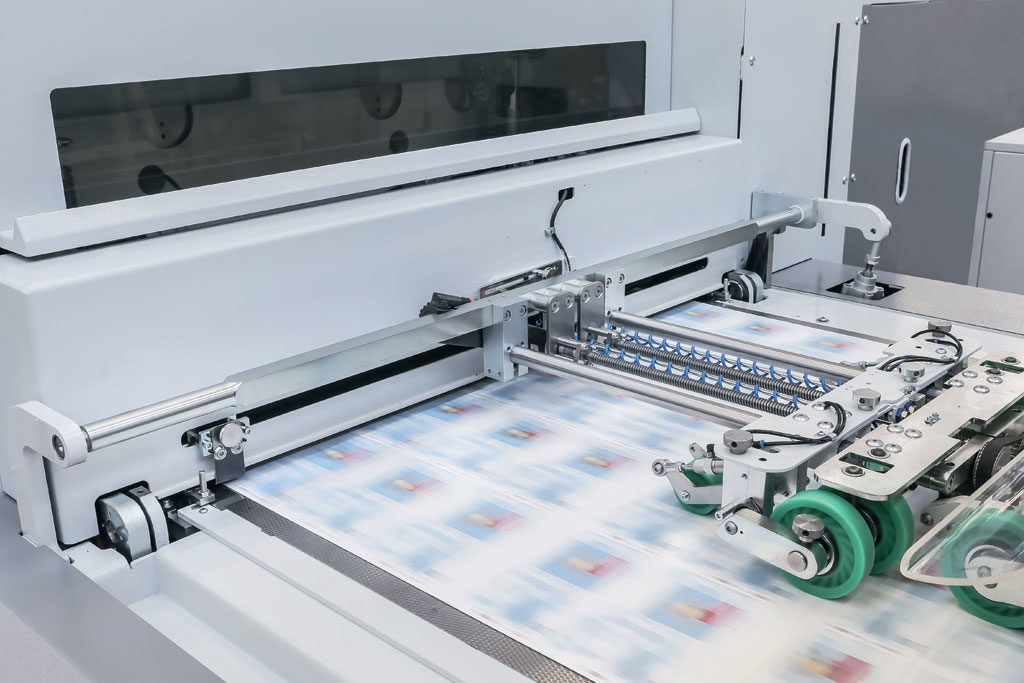 "To sum up", says Jacques Reymond, Head of Product Marketing of Business Unit Sheet Fed, "BOBST MASTERCUT 106 PER offers re­duced setup times, perfect sheet loading, precise registering, and smooth sheet transfer, for uninterrupted pro­ductivity.
This machine has been designed to be easy to use and therefore equipped with first-class ergonomics that relies on our innovative human-machine in­terface.
If you are looking for the most productive, precise and efficient punching machine for any material, MASTERCUT 106 PER is the best in the market.