Labelexpo 2017 marked a milestone in the growth process of this Italian company, a reference point in the production of clichés and flexo plates for printing and finishing: it is the first presence on an international stage for Albertin, that wants to grow in the next years thanks to its highest quality production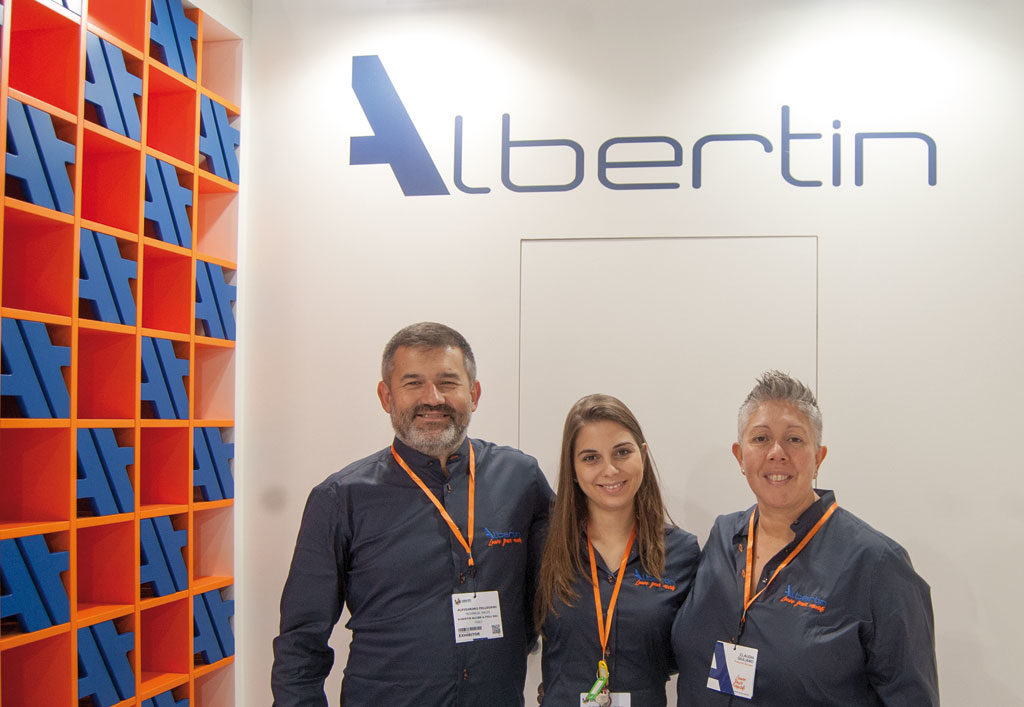 Albertin has been working in the field of graphic arts since 1971, when Alcide Albertin began his business as a plates manufacturer, then he specialized in the field of clichés and flexo plates for printing and finishing. 45 years of activity in Italy, a generational transition that has taken place without problems: now Ferruccio Albertin, the founder's son, is the leader of the company that in the coming years will aim to become known and grow more and more internationally. The company has developed every aspect of management and processing of orders in very short time, with the utmost precision, and now is ready to serve customers all over Europe.
At Albertin stand at Labelexpo, which we visited last September, satisfaction was evident; many contacts with potential new customers and a deep optimist feeling, a sign that the decision to expand its scope is the right way to project the company in the future.
"Leave your mark": Albertin defies the market
During our visit to the stand, where Albertin introduced the line of products dedicated to the world of labels, we gathered the first impressions on this participation and spoke about the company and its products with Alessandro Pellegrini, commercial technician.
"Today we are highly appreciated by the market mainly for two factors, which are the founding values ​​of the company: the quality of the finished product and a particular attention to customer needs. With our consulting approach, we team up with customers to avoid any kind of problematic during production, regarding cardboard or labels machines", says Alessandro Pellegrini.
The heart of the company, where 32 people work, is represented by the graphic design office (equipped with a Esko Automation Engine workflow), where highly qualified operators are able to advise the customer about the most appropriate choice to follow at graphic level in order to obtain the desired results. In this way you can keep the promise "Leave Your Mark", the claim that accompanied the company at this first international show, an invitation to customers to dare more to leave a sign that help their labels or packaging to stand out from other products on the market. Labels and cardboard companies represent the reference market for Albertin, that is wine and spirits label manufacturers, and companies that prepare beautiful boxes for cosmetics, perfumery, fashion and luxury products.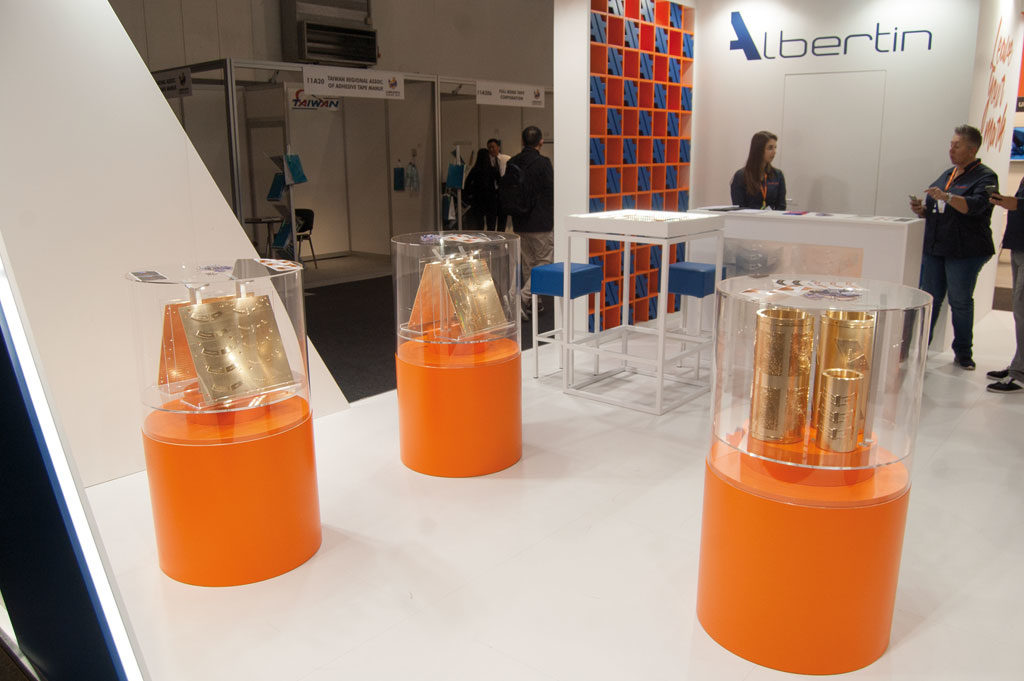 In-line flat stamping cliche: five processes in one printing step
"We have focused our Labelexpo 2017 presence on our innovative in-line flat group, a cliché that allows you to realize up to five workings in a single printing step. The embellishments that can be made with this product are hot stamping, debossing, embossing, patterns, texture and anti-counterfeiting holograms.
This cliché, used in-line on printing units of web presses and dividing the printing step in five units, the possibility to get with one single stroke the finished label with five finishings. The use of a single matrix ensures quick and precise processes, since no registration is required between processes", adds Pellegrini. It is clear that these 5 processes represent a working that the market requires seldom, but as confirmed by Pellegrini, 3/4 steps in-line are now a standard that is often required by customers.
This special cliché is made of brass or magnesium with 7 mm thickness and is compatible with the Pantec Rhino modules by Pantec, Big Foot by ABG and Codimag.
Traditional engraving and fiber optic laser
The Albertin production process diversifies itself depending on the type of material to be used.
For magnesium plates, writing is done using CtP, and then, by means of chemical processes, the cliché is engraved. Brass clichés are instead made by means of numerical control grinders or with the help of laser engraving machines.
Thanks to the use of fiber optic laser Albertin can achieve very special effects such as micro-engraving on brass, or engraving of very small details that without laser would be impossible to obtain.
A "surely" surprising and exclusive effect: the micro-engraving
In addition to the in-line flat group, at exhibition there was great interest for a special working process: micro-engraving.
A feature of micro-engraved cliché is its surface, which has a very fine texture to transfer the graphic details on the film and, therefore, to the printing substrate.
Micro-engraving motifs feature random or repeated patterns, and can be customized with logos, writings, or graphics with unique optical refractive effects that change depending on the viewing angle. For this reason, micro-engraved clichés are the optimal solution to create anti-counterfeiting holograms for brand protection.
It is possible to micro-engrave brass clichés with thickness from 3 to 7 mm. For magnesium clichés the thickness will be from 1 to 7 mm.